History of insurance
The history of insurance in the world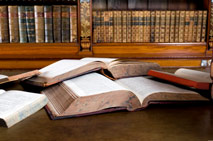 Already in ancient times there were known cases of associations of interested parties in order to share risk. A characteristic feature of these different forms of associations and unions was basing on the principles of reciprocity and solidarity. Community risk arose earliest in those fields, where cargo and money were of greatest importance, yet also where the danger threatening economic activities and a man's life was the greatest. These areas included trade, transport and crafts.
Already at the time of Hammurabi (about 2 thousand BC) there were known examples to contract of caravan participants in the Middle East. They committed themselves to jointly cover any damages incurred by each participant of such an agreement. The subject of the contracts was primarily damages done to pack animals. If one of the participants of the contract had lost a pack animal, the other members submitted an appropriate amount, which was to compensate for this loss.
More information can be find in the attached elaboration.
The history of insurance in Poland

First ideas of insurance appeared in Poland in the 16th and 17th century. In some cities there were so-called "fire orders" (fire precautions registers), which were based on an organized neighbour support. There were also fire unions established, which could be described as the first mutual insurance companies. The first fire unions were established in the first half of the 17th century and were quasi-insurance institutions based on insurance premiums paid in advance. Their purpose was to help people who suffered loss due to fire. The most popular unions were in Poznań, Leszno, Wschowa and Wronki. The first insurance companies on the Polish land were established during the partitions of Poland, at the turn of the 16th and 17th century, mainly under Prussian occupation.
Fryderyk Wilhelm's decree from 21st April 1803 established the Fire Society for the Cities in South Prussia. The decree from 9th April 1804 established the Rural Fire Society of South Prussia Province. Both of these insurance institutions, which covered native Polish lands, were a base of further insurance organizations in the Kingdom of Poland and Grand Duchy of Poznań. Historically speaking, they were the first public insurance companies to act on Polish lands.
At the end of 2003 and the beginning of 2004 it was a 200th anniversary of insurance in Poland.
More information can be find in the attached elaboration.